Cosmic Disco Detective Rene is a sequel to The Secret Society for Slow Romance, but it's not the type of sequel that retreads the beats. Instead, NYC-based independent filmmaker Sujewa Ekanayake treats us to the same characters in an entirely different genre: a sci-fi comedy romp. Just as I loved The Secret Society for Slow Romance, I instantly fell in love with this quirky, funny slice-of-an-interesting life film.
While it's a sci-fi comedy, at the heart of Cosmic Disco Detective Rene is a mystery: Are there immortal time travelers? Are they a threat? Do they meant to disrupt the past? What should be done?
You might look at the above and think, "but what does that have to do with disco?" I'm so very glad you asked — Rene (Sujewa Ekanayake), the independent filmmaker that also happens to be North America's happiest person, is also a detective – and a busy one at that. Rene solves his cases by listening to the background noise of the universe, which just so happens to be disco music. The government has a problem – and they need an innovative detective like Rene to help them determine how to proceed. Independent Filmmaker / Government Agent Ithihasaya (Genoveva Rossi) engages Rene to help advise the government on how to proceed. That's not all that Rene has on his plate, as we also meet Chitrapati (Natalie Osborne), an independent filmmaker / film critic / theater owner who is interviewing Rene about the history of New York City independent cinema. The film covers his search for the answers to why the time travelers are among us and we get a glimpse of that process – from brainstorming the possibilities with Allyson (Alia Lorae), to checking the groove of the universe.
If you read a lot of my film reviews or hear me talk about film, I often talk about how effective an filmmaker is at building a world and sticking to its rules – and here Ekanayake builds an immensely entertaining world very close to ours – with a mystery all of its own. The funny, hopeful, and spirited sci-fi comedy explores concepts such a simulation theory and multiple dimensions without bogging down the text with technical details. Instead, we're free to explore philosophical ideas with Rene as he tries to solve the mystery of these immortal time travelers, and what they might be doing in our time. As in its predecessor, we also spend a lot of time with Allyson as she navigates her evolving life and interests. Cosmic Disco Detective Rene reveres its characters as much as it relishes its New York City setting, elevating the city, and specifically Sunset Park, to near-character status.
One of the things that captivated me about The Secret Society for Slow Romance was how the characters talked and related to each other – and Cosmic Disco Detective Rene delivers even more amazing conversations, and introduces two brand new characters to get to know. Every character is an independent filmmaker with a different focus, and each brings a unique perspective on a range of topics – from the impact of colonialism on movie reviews to how Hollywood excludes the voices of those with unique stories and ideas. These ideas are important, and relevant to our conversations around the stories we humans tell ourselves – and it's refreshing to have them explored outright.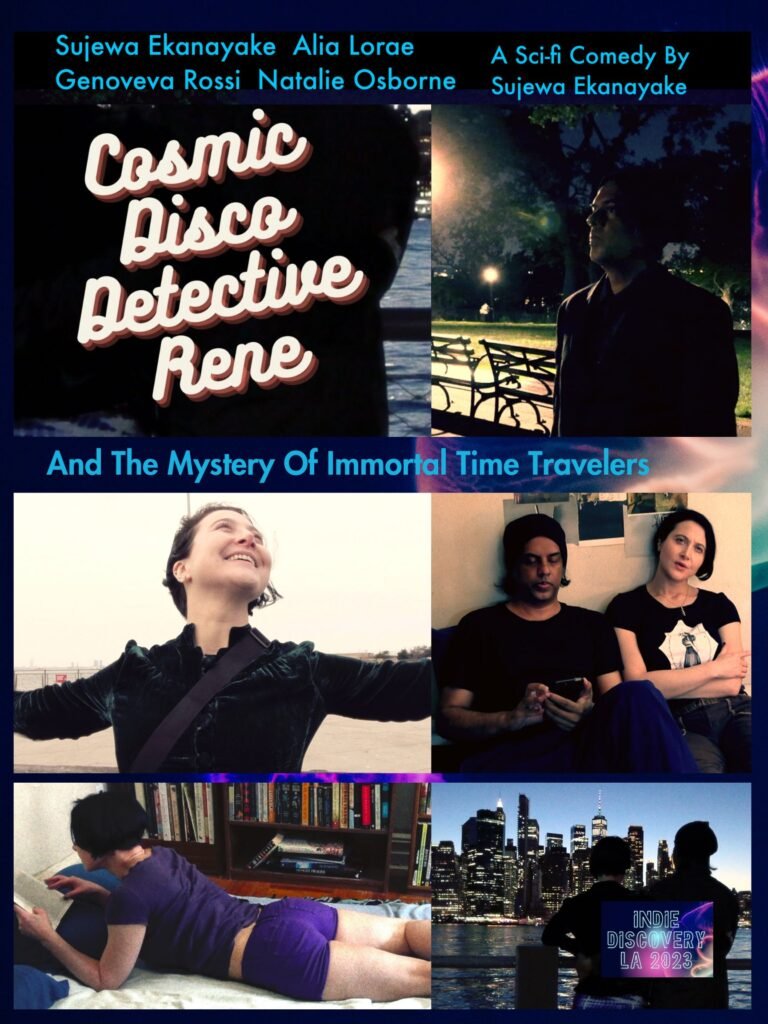 One of the reasons I love independent film is that it allows people to tell more interesting and daring stories that aren't forced to conform to the interests of a boardroom. I have learned more about my world and the people in it since exploring independent film.
Delightfully, Cosmic Disco Detective Rene is smart and laugh out loud funny without pretension or artifice, and instead allows the audience space to relish life's absurdities. The movie's performances were engaging and organic, and each detail within the scenes enhanced and supported the story. It stayed true in moments to its slow cinematic roots from the Secret Society for Slow Romance by allowing frames and moments to linger.
While the Secret Society for Slow Romance asked if independent film solve world poverty – Cosmic Disco Detective Rene demonstrates that independent filmmakers can bring insight and clarity to many other problems.
Cosmic Disco Detective Rene is a feel-good, uplifting movie that has an unmistakable vibe, and entertaining characters. It celebrates its setting of New York City, and its medium of independent film. It's lovingly crafted, and features several homages to its inspirations and roots. Cosmic Disco Detective Rene isn't just a sci-fi comedy -it also explores a variety of unexpected subjects with depth, and a big dose of humor. It isn't just a celebration of independent cinema, it represents the exact sort of stories that people who love indie film seek.
If you're looking for a fun, interesting story that has a lot of rewatchability, laugh out loud moments, and memorable characters – you'll really enjoy Cosmic Disco Detective Rene.
Cosmic Disco Detective Rene will be screening at the Laemmle Theater in Glendale as part of the Indie Discovery LA Film Series (IDLA), where it will have 7 theatrical screenings. There will also be weekly virtual screenings with Q&A's following the film. For more information go to the Indie Discovery LA Film Series website.