I admire meditative films that explore the depth of emotion in a situation – and Shudderbugs is a wonderful example of just such a film. Written, starring, and directed by Johanna Putnam, Shudderbugs is a beautiful, sensitive, and subtle psychological thriller that chronicles a woman's unraveling psyche as she deals with the death of her mother. I'm not the only one to be smitten – the film has won several awards – including the Indie Spirit, Rising Star (Naples International Film Fest), Best Actress (Kansas City Film Fest), Best Director, Best Screenplay (Idyllwild International Fest), Indie Auteur of the Year (Bare Bones International Film Fest), Festival Director's Choice (Cinema on the Bayou), and Special Jury Mention (Oxford Film Fest). And I'm certain that there are more awards to come for this one!
Shudderbugs' opens with a soundscape that envelops the mind before the visuals start, finding its way to the question, 'Miss Cole…Miss Cole, do you know where you're going?' and this is the very question we spend exploring with Sam Cole (Johanna Putnam) throughout Shudderbugs. The layered, compelling sounds and bright image of Sam staring upwards at us feels Lynchian, and that feeling continues as the score seeps in and we see Sam driving through a rural landscape. The deliberate and pacing of Shudderbugs allows for an air of disquiet as Sam approaches her childhood home.
Sam's mother died suddenly, but that isn't the only mystery that Sam discovers once she arrives at the house. The mysteries continue as Sam explores her childhood home, where her mother's presence and intentions are felt throughout. While this was her home, the score, soundscape, and atmosphere make it feel instead like a liminal space residing between her childhood and her future that she must traverse. She finds things never before seen and things missing, and is left with more questions than when she arrived.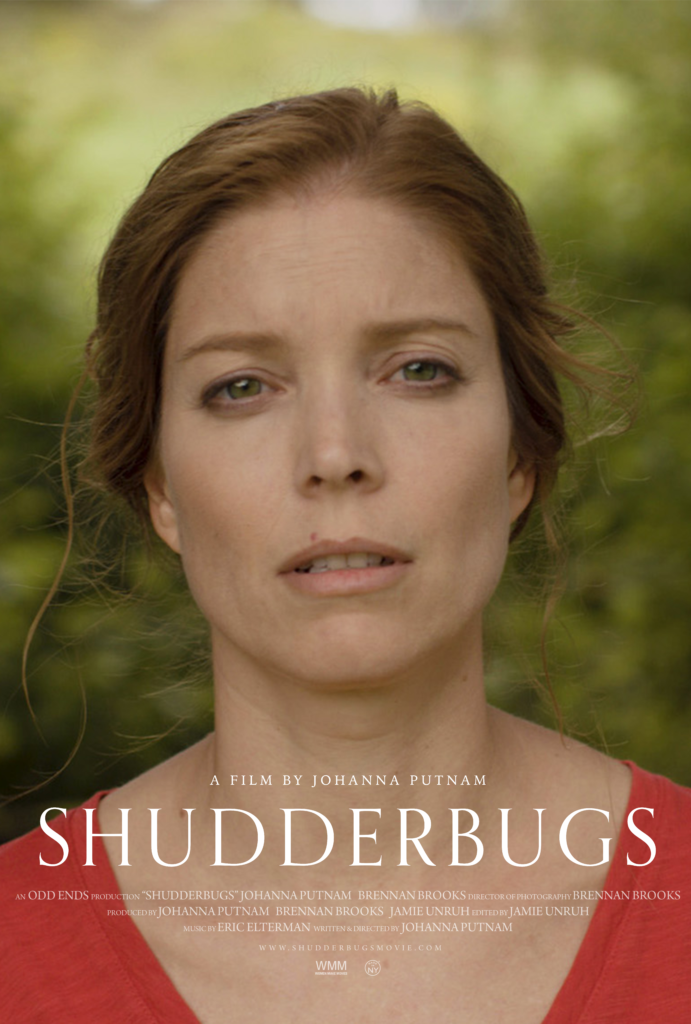 The creeping feeling of dread mounts as she interacts with her only neighbor, Noah, played by Brennan Brooks, who is also the Director of Photography and a Producer on the film. Noah was the one to find the body, and he isn't forthcoming with information – and is obviously uncomfortable with Sam's presence. As the grief-stricken Sam seeks answers, she's gripped more and more by paranoia. She questions her own ability to handle the quickly escalating situation. The more she is isolated, the more she is pulled by the forces of grief and a growing paranoia that she must process. To find the answers she is frantically seeking will require her to follow trails of clues left around her – and more importantly, to not lose herself in the sea of grief.
Shudderbugs was filmed during the pandemic. Putnam, Brooks, and editor/producer Jamie Unruh embraced the limitations that the lockdowns created, and remained focused on the elements available to them: a beautiful location, compelling and organic performances . . . and lots of noisy, fluttery, beautiful bugs. Their years of experience and love of cinema created an poignant and emotional film that stays in the mind and near the heart. The original score by Eric Elterman elevates and heightens the atmosphere, without overwhelming some of the other delicate moments of sound design.
Shudderbugs is an achingly beautiful film – each detail lends itself to the story and atmosphere. Heartfelt and sincere, I shared Sam's grief, triumphs, and fears on her journey. Johanna Putnam conveys the ravages of grief in such a compelling way I found myself shedding a cathartic tear more than once. Brennan Brooks' performance as Noah was so true to life it felt as if he had stepped out of my own small-town past.
While Shudderbugs explores the character of grief and a host of other uncomfortable emotions, it's never so much as to turn maudlin – the humor sprinkled throughout is perfectly timed to give release after exceptionally tense moments. It is a powerful portrayal of a woman who is tossed about by her grief in an isolated world of mystery, paranoia, and discovery.
It will be screening at the upcoming Macon Film Festival August 17 – 20, the Middlebury New Filmmakers Festival on Friday, August 25th, and the Richmond International Film and Musical Festival on September 27th. You can find out more information about upcoming screenings on their linkpage, or their website.
Shudderbugs is a stunning, multi-layered film that bravely explores the strange places that grief can lead us. If you enjoy beautifully textured movies with a strong emotional center, immersive soundscapes, lovely landscapes, and compelling performances that you can't help but feel straight in your heart, Shudderbugs is a beautifully crafted film that is well worth your time.