The Laemmle family has been in film since the beginning, and 'Only in Theaters' chronicles this iconic family's impact on cinema, in particular the impact of the chain of theaters in Southern California bearing their name and run by CEO Greg Laemmle. Opening at the Laemmle family's Shabbat table, the documentary weaves images and film from their family archives, interviews with influential figures in film, and family celebrations and reminisces with footage that director Raphael Sbarge captured during 24 extraordinarily turbulent months for the revered theater chain.
It's a wise thing to focus on the theater chain, because the scope of the documentary would be too large should it try to encompass the impact of the Laemmle family – which can't be overstated. Not only did Carl Laemmle save the lives of 300 German Jews, but he also began an unforgettable legacy of uplifting independent voices in Hollywood.
Carl Laemmle, A German immigrant who came to the United states in 1884, may have started working in retail and dry goods, but it all changed when he first glimpsed a nickelodeon. Laemmle would stand against Edison's Motion Picture Patents Company. Laemmle's successful challenge broke Edison's monopoly of moving pictures.
Laemmle would go on to form Universal Studios, but without his innovations in marketing (for individual actors) and location (moving west) the history of motion pictures would be entirely different.
While telling some of the storied history of the Laemmle family is important to "Only in Theaters," the focus is on the 84-year-old Southern California theater chain. Initially intended by the director as a more brief project that would encompass the challenges faced by the arthouse change in the face of waning ticket sales due to streaming technology, and the contemplation of a buyout, the documentary also encompasses the challenges faced by the family-owned chain during the COVID-19 pandemic.
'Only in Theaters' is engaging with the way it explores the history and challenges faced by the Laemmle family and its business, but what stuck with me more was the movie's celebration of theater-going itself. It includes many stories of movie-going experiences: first dates, inspirational, life-altering experiences, and important premieres that happened at Laemmle theaters. As the documentary demonstrates, there's something magical that happens in a movie theater, and central to the documentary is that movie theaters are storytelling spaces of vital importance: and this is true of Laemmle theaters in particular.
I think anyone who has seen a movie in a theater agrees. There's something special about it: from the beautiful, large spaces to the collective energy of the crowd giving itself over to the fictional dream.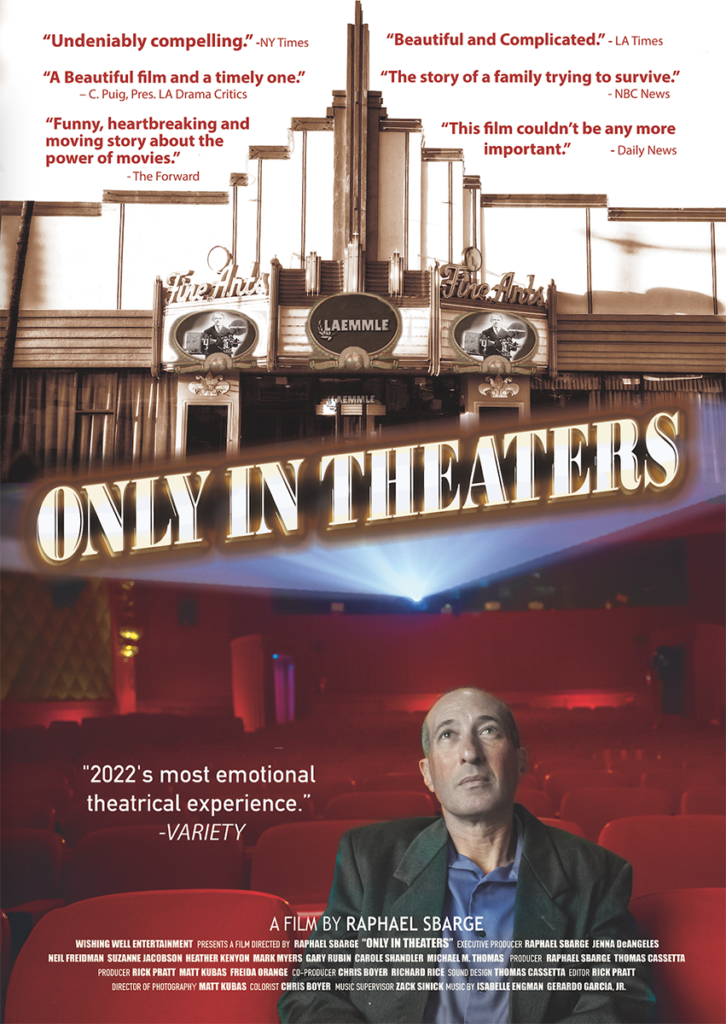 In an interview for the Jewish Journal, Greg Laemmle shared his observations made as he toured with 'Only in Theaters.' "As much as films are struggling right now, event cinema screenings are doing very well," he said. "We make every screening a little special. It's much more important now to appear at the screenings and talk to audiences afterwards." I've certainly been to such an event screening recently to see Tommy Wiseau's Big Shark (and Tommy Wiseau has a history of screening 'The Room' at … you guessed it, Laemmle theaters. Such event cinema screenings offer a lifeline to small theaters seeking to find their audience in the post-pandemic, post-streaming world.
'Only in Theaters' isn't just about 24 months in the history of Laemmle Theaters – that would have been compelling enough, though! It's also a celebration of independent cinema in general. It honors the cultural legacy of these spaces dedicated to collective experience, elevating them as sacred. After watching it, my first impulse was to go out to see a movie.
Obviously, I'd say the best way to see this engaging, vibrant, and interesting documentary is to head to a Laemmle theater – or your local independent theater. There's a schedule of events for it here. But if you can't make it to one of those, 'Only in Theaters' will be streaming on Amazon starting May 2nd.