A new film festival, Indie Discovery LA (IDLA) Film Series, will be starting in July 2023. It features films from independent filmmakers. Inspired by the documentary Only In Theaters, Sujewa Ekanayake decided the best way to support fellow filmmakers and theaters was to program an entire film series – and the concept for the Indie Discovery LA Film Series was born.
The Indie Discovery LA Film Series will start in mid-July, and features an interesting array of indie films. 'Cosmic Disco Detective Rene and the Mystery of Immortal Time Travelers' directed by Ekanayake, 'Three Worlds' directed by Amir Motlagh, and 'Bristol Fashion' directed by Pierre Guillet. The exciting film series will show each movie at Laemmle Theater in Glendale for at least a week. Additionally, Cosmic Disco Detective Rene will be available through limited VOD release through the screening series using Vimeo starting in mid-July, and will have weekly virtual screenings with question and answer sessions through the series and Eventive starting most likely in August.
Inspiration
Sujewa Ekanayake is a prolific filmmaker and tireless advocate for the independent filmmaking community. His blog, DIY Filmmaker is full of insights, interviews, images, and information about the independent films and how to make and distribute them.
After he saw Raphael Sbarge's exceptional documentary, Only In Theaters, it inspired him to take his advocacy and seemingly indefatigable efforts to uplift the film making community to the next level.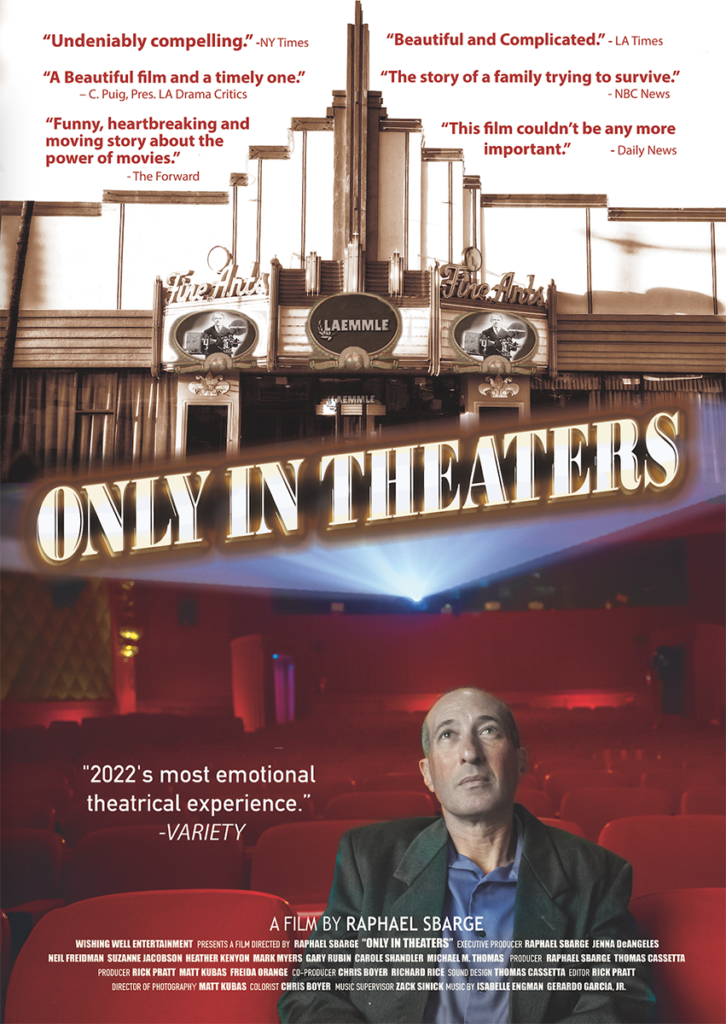 Only In Theaters is an utterly engaging and emotional look at the Laemmle chain of theaters. The Laemmle name has been in Hollywood since Hollywood began, and the Laemmle chain of arthouse theaters in California continues to be an iconic platform for independent voices. Sbarge originally began the documentary intending to capture moments with Greg and Tish Laemmle and their family as they struggled to come to grips with the changing times for theater. The original threat? Streaming. But by the time the documentary was finished it also included the impact of COVID, lockdowns, and economic downturns.
In my original review of Only in Theaters, I said, "Opening at the Laemmle family's Shabbat table, the documentary weaves images and film from their family archives, interviews with influential figures in film, and family celebrations and reminisces with footage that director Raphael Sbarge captured during 24 extraordinarily turbulent months for the revered theater chain."
I also said later, "Only in Theaters is engaging with the way it explores the history and challenges faced by the Laemmle family and its business, but what stuck with me more was the movie's celebration of theater-going itself. It includes many stories of movie-going experiences: first dates, inspirational, life-altering experiences, and important premieres that happened at Laemmle theaters. As the documentary demonstrates, there's something magical that happens in a movie theater, and central to the documentary is that movie theaters are storytelling spaces of vital importance: and this is true of Laemmle theaters in particular.
I think anyone who has seen a movie in a theater agrees. There's something special about it: from the beautiful, large spaces to the collective energy of the crowd giving itself over to the fictional dream."
But I wasn't finished writing about Only in Theaters. I found it had such an effective call to action inspired me to do a deep dive on some of Raphael Sbarge's other documentaries to try and figure out how he did that.
I wasn't the only one to feel so inspired by the documentary. For Sujewa Ekanayake, Only In Theaters lit the fires of inspiration.
Dedication
But inspiration isn't the only thing that is needed to make a film series. It just so happens that thanks to years in the independent movie space, Ekanayake has both the dedication to a vision and the perseverance to make it happen.
I asked him what some of the challenges were in setting up the film series, and he told me, "Finding good movies was difficult. Finding filmmakers who have done some self-distribution work and wanted to collaborate on producing screenings was difficult. I think I spoke with about 20 filmmakers before settling on the current lineup."
The best moment in the arduous process happened early on he explains, "Favorite early moment was hearing about the possibility of showing 6 new indie films in LA – when Laemmle theaters approved of the project and decided to support it."
He did an exceptional job programming the series – I've had the opportunity to screen and write about most of the lineup (and will be completing that in the coming weeks). The films are diverse in style and subject. Each of them are exceptional films and featuring the innovative techniques and compelling stories. The films are vastly different from each other, which interested me in understanding the curation process. Sujewa told me, "I wanted to show real indie movies that also had somewhat of a mainstream accessible entertainment quality to them and that may review well. So I ended up with 2 sci-fi type movies, a musical, a western/cowboy movie, and 2 dramas. A good mix."
Despite the challenges, Ekanayake found that working with the Laemmle Theaters helped, "They were very helpful. It is a complex project however – so a lot of work, discussions, emails."
I have to endorse this curation method – and agree with the mix. I found all the movies to be engaging and interesting – and refreshing in the way that only an indie movie can be. Ekanayake had the perfect blend of inspiration and dedication to independent filmmakers and independent cinemas to create an exceptional series of Interesting films. Indie Discovery LA Film Series is a carefully curated collection of interesting, vibrant films that highlight the best aspects of independent film. The opportunity to see these on the big screen in a Laemmle theater is an amazing opportunity!
Cosmic Disco Detective Rene and the Mystery of Immortal Time Travelers
Ekanayake has been making films for years – and last year he premiered his movie The Secret Society for Slow Romance. I've written about the film extensively – and this year he's created a sequel, 'Cosmic Disco Detective Rene and the Mystery of Immortal Time Travelers.' In this film, Rene, the happiest man in North America and a famous private detective, is hired by the US government to determine if there are Immortal Time Travelers interfering with the past – and if it presents a danger. Are the time bridges a looming threat, or something else?
You can see a trailer for the movie!
I'll be publishing a more extensive review of Cosmic Disco Detective Rene and the Mystery of Immortal Time Travelers coming soon! The film is currently being completed and prepared for VOD availability later this week!
I was a big fan of The Secret Society for Slow Romance. I loved Sujewa's approach to filmmaking, the slow cinema sensibilities, the philosophical and hilarious conversations that Allyson and Rene had – and the lovely views of New York. From my review of the film, "On the most fundamental level, The Secret Society for Slow Romance is a slow cinema romantic comedy that explores what happens when two extraordinary people go on a few dates in New York City. The slow cinema styling allows us to explore big questions and even larger answers as filmmakers Rene (Sujewa Ekanayake) and Allyson (Alia Lorae) share take-out, conversation, and beautiful views of New York City. Throughout the movie, shots are allowed to linger on interesting spaces, objects, and people — the soft, welcoming glow gives character to the camera itself, which should be no surprise in a movie focused on two filmmakers."
In another essay exploring the philosophical underpinnings of The Secret Society for Slow Romance, A Most Unusual Schooling, I said "The Secret Society for Slow Romance outlines a guide to creating independent film that includes distribution methods, fundraising, and merchandising ideas. It gives a great run down of amazing places to visit in Sri Lanka, and a fabulous list of independent films to watch for inspiration. But it also spends extensive time exploring spiritual methods to cultivate happiness. The Secret Society for Slow Romance is a study in the application of the Four Brahmaviharas, and it gives practical solutions to cultivating happiness. Not just within its world, but within our own."
Cosmic Disco Detective Rene and the Mystery of Immortal Time Travelers will have its LA theatrical screenings with Indie Discovery LA – dates to be announced. There will also be limited Video On Demand screenings during the IDLA series, in addition to weekly virtual screenings with question and answer sessions through the series and Eventive starting most likely in August. To keep up with the upcoming dates for Cosmic Disco Detective Rene, keep your eyes on the IDLA website.
Three Worlds
LA-based independent filmmaker Amir Motlagh's Three Worlds is anengaging and thought-provoking film explores the nature of connection, memory, and self. This fearless film from Iranian-American Motlagh features amazing cinematography, innovative story structure, and beautiful turns of narrative that can take your breath away. Motlagh's 20 years of independent film making experience gives this genre-bending and mind-bending film the expert hand it needs to guide viewers through the film's complex story structure.
Three Worlds feels like a tone-poem and meditation on the nature of memory. It's beautiful score enhances the lush cinematography, compelling imagery, and organic performances give us a mirrored window into the main character, Saam's (Motlagh), life and inner worlds. It's a clever and innovative science fiction movie that brings an emotional and philosophical contemplation to life.
Here's the trailer!
I've had the chance to review this one before, and I said, "The beautiful trick of the raw, emotional work of Three Worlds is that it got me to forget all of the crazy questions I had about the sci-fi part of the movie. The more I saw Saam interact, and heard the family talk, the less I worried about how and the more I wanted to know why. For a work that seems so puzzling on its surface, the undercurrent of relationships and how they color and impact the experience of life remains…The cinematic experience of LA rooftops and its beautiful skies interspersed with carefully framed conversations and the Harmless Room are evocative and inspiring. This isn't the sort of film for people who are looking for comfortable answers. It displays its raw and sometimes dark emotions in a way that is easy to connect to and challenging to contemplate. Three Worlds asks us what of our lives, our selves – our worlds. What are we? How do our relationships impact our world?"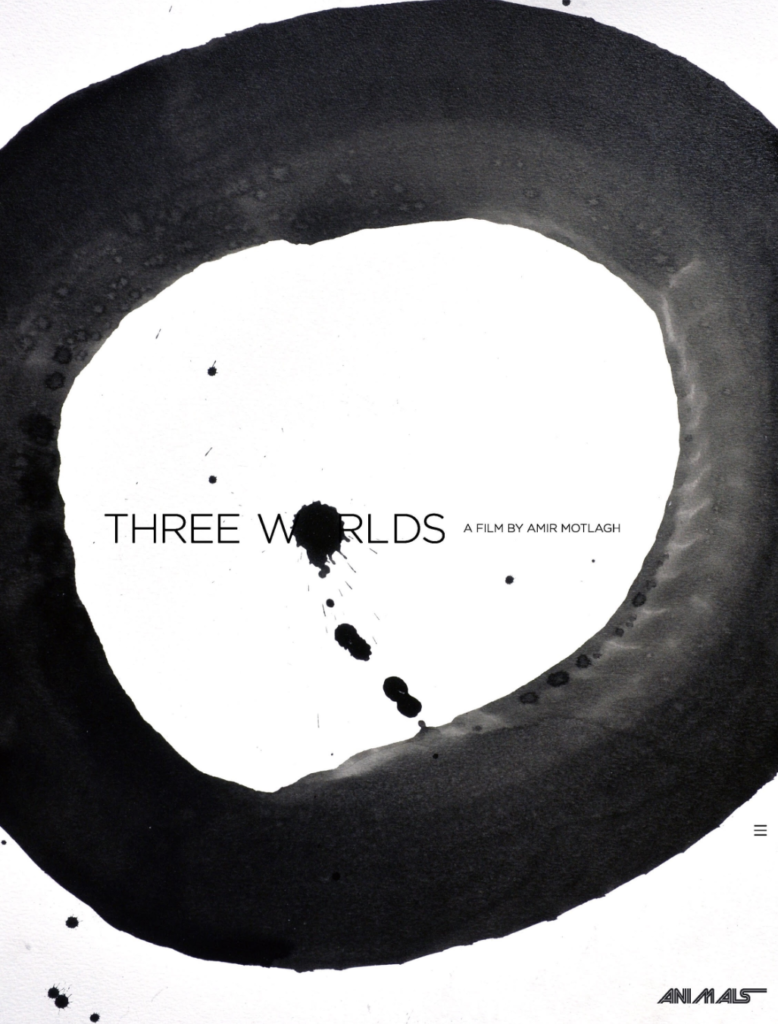 While Three Worlds asks a lot of viewers, the emotional and intellectual payoff for the investment are huge. As viewers experience the movie, not only do we learn about Saam, but also a bit about the nature of creativity, memory, and connection. Seeing the sumptuous visuals on the big screen should be an utter delight.
Three Worlds will start its run at Laemmle Glendale as part of the Indie Discovery LA Film Series on 8/4/2023 and will run for 7 days.
Bristol Fashion
Bristol Fashion tells the story of Christina (Lea Nayeli), a transgender woman, during a time of extraordinary chaos for her. Christina buys a boat from Esteban (Raul Perez) with the intention to embark on a long journey out of her old life. Once Esteban susses out that Christina doesn't have a place to stay, he lets her crash on an abandoned houseboat at the boatyard that serves as the main setting.
This sweet slice-of-life movie shows the bigotry, confusion, and awkwardness that she faces from people in her interactions. As she attempts to put her life together in the face of haunting trauma, we learn more about her vulnerability, strength, wit, and warmth.
When I reviewed Bristol Fashion before, I said, "I really enjoyed 'Bristol Fashion,' and was grateful to see an affirming story about the power of tolerance and acceptance. The story's emotional range and depth is accompanied by wry humor and meditative visuals that make sure that the weighty material isn't too overwhelming. It was refreshing to see a film that actually explored the experiences of a transgender woman beyond just the surface. 'Bristol Fashion' is a beautiful contemplative examination of the sort of life often relegated to the margins, but so deserving of our time."
I appreciated Bristol Fashion's reverence for the character building process, and its patience in allowing scenes to unfold. Instead of being rushed through the memories and moments, we're allowed to linger and take in the details – not just of where characters are in their journeys, but of their surroundings as well. Bristol Fashion makes sure we get to know Christina and those who ebb and flow through her life. Even the marina's presence transcends setting into character.
Bristol Fashion will make its LA theatrical debut with a the Indie Discovery LA Film Series starting on 8/25/23 for 7 days!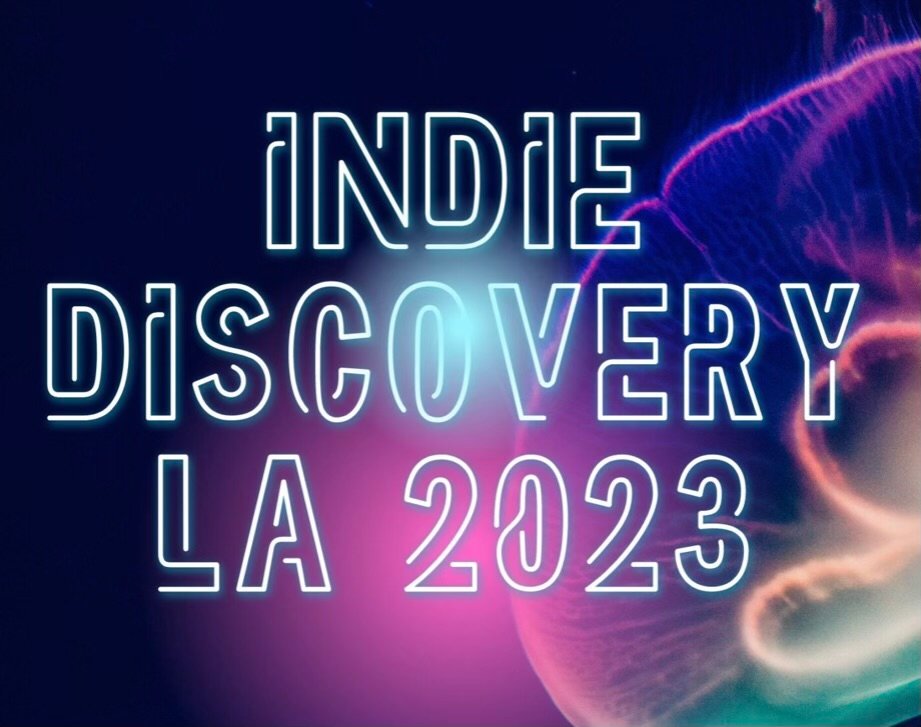 As you can see, Sujewa Ekanayake has curated an exceptional series of films to experience at the storied Laemmle Theater. You can find more details and get more information about the Film Series on its website.